My first blog and vlog combo is a sneak peek into my 2019 Holiday Wardrobe.
As you know, my Instagram feed is based on a color-coordinated grid. I was inspired by popular Instagram Influencers Amra, @amrezy, and Ann Wynn, @ann.wynn. This year with my rebrand, I decided to coordinate my timeline according to seasons! Ironic how every season has its own unique yet fleeting beauty.
This year for Christmas, I decided to adorn myself in Emerald Green. Emerald Green, a vibrant color, is the color of balance, harmony, and growth. From a meaning of color perspective, green is also the color of growth, renewal, and rebirth. It renews and restores depleted energy. It is the sanctuary away from the stresses of modern living, restoring us to a sense of well being.
How fitting! Without further adieu, we'll get into it!
This haul was done at Pretty Little Thing, who is my favorite online boutique for my many Social Media grid posts. I love #PLT because:
They're super affordable
They get my style
Good quality for its price, and
They're ALWAYS having a sale (between 25%-60% off)
Emerald Green Velvet Zip High Neck Jumpsuit, size 2
I wore this a few nights ago and wore it BACKWARDS!? No worries, I promise I'm going to wear it again and wear it the CORRECT way. However, I loved the feel of it. Its fabric is breathable, heavy enough to keep you warm, but not so bulky it makes you heated. It's curve-hugging and true to size. Photos are pending.
Emerald Green Velvet Cowl Neck Bodycon Dress, size 2
Similar to the jumpsuit mentioned above, this mini cowl neck dress feels and wears the same. I'm pretty sure I'll be wearing this dress soon. This dress has a flirty neckline and low back cut with what I consider excellent support with its design. I've had dresses with a low back cut that didn't hold up around the chest too good. PLT got this right.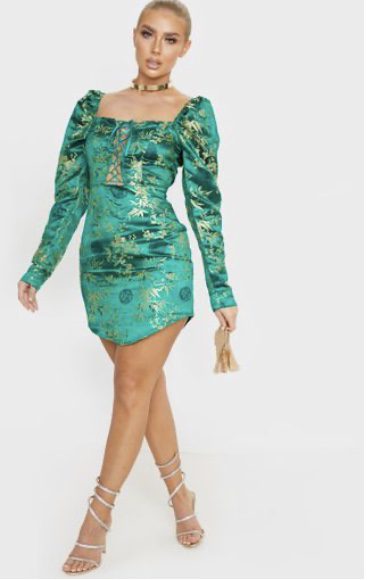 Emerald Green Jacquard Floral Lace Up Long Sleeve Bodycon Dress, size 4
I ordered this dress a little bigger because I expected the fabric to be a little heavier and rigid. Nonetheless, it still has a good feel for its price. I'll have to get alterations for a more flattering fit. By then, I can give an update on how it wears.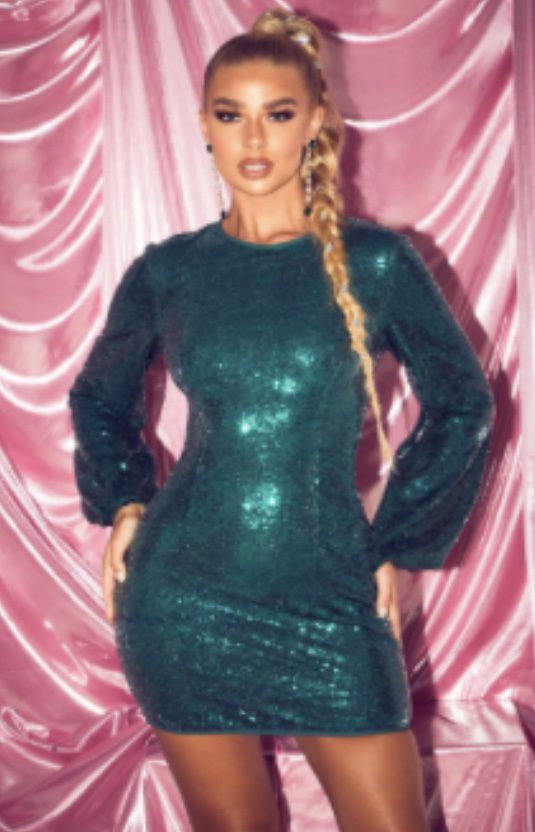 Emerald Green Balloon Sleeve Sequin Bodycon Dress, size 2
Three Words: PERFECT HOLIDAY DRESS! I love everything about this dress! It screams Christmas Party to me; long sleeves, sequins, legs out! ? Sign me up, please! The only thing I don't like about this dress, like any sequins dress/outfit, is the fact that it always gets stuck together. I'll work with it though like I always do.
Emerald Green Sequin Oversized Blazer Dress, size 2
Sophisticated, chic, glitzy, and festive! I recently wore this dress and received compliments at every turn. It was a little shorter than I anticipated but, overall, had a fantastic fit. The only thing I disliked about this dress was the side split. I had minor challenges while sitting, ensuring no slip-ups. Photos are pending.
White Gold Button Blazer Dress, size 2
I know this dress isn't in my color scheme, but I still decided to include it in this mini haul because I also received a lot of compliments on it. While planning my Christmas feed along with my Launch Event, I decided to order outfits for each of them at the same time. This dress, along with two other dresses were my top pick. Unsure of which to go with and pressed for time, I asked my best friend and co-workers to help me come to a decision. THEY ALL CHOSE THIS DRESS. Additionally, this dress was a quarter of the price compared to the other two. Photos are pending.
Green Sequin Mini Duffle Bag
PSA guys, it really is a MINI bag, they weren't kidding at all! The only thing I can put it in is my credit card, ID, and lip gloss. Unfortunately, I may never wear it unless I want to hold my phones all night. I lost my phone by simply typing that! ? Anyway, it's cute; I might give it to my 4-year-old cousin.
Gold Chunky Textured Square Drop Door Knocker Earrings
I absolutely love these keyhole earrings (not typing that long name again)! They were the perfect accessory to my Emerald Green Jumpsuit and red lips! I give this a 10/10, would definitely buy again in a similar style. Ya know, a girl needs some options.
Gold 150mm Extra Large Hoop Earrings
"The bigger the hoop, the bigger the hoe." – KhloMoney. I'm not even sorry because I always wanted to say that. LMAO. But on a more serious note, I've always LOVED oversized hoop earrings; I think they're the most classic accessory because they suit just about any outfit. For years, I've found that oversized hoops are generally made with less metal, causing them to bend and lose their perfect round form. Finally, I found a pair which is denser and more significant than I've ever worn. Look out for these babies a lot, from a casual outfit to a night on the town!
There you have it; my first of many fashion blogs. I hope you enjoyed because I look forward to making the next one! If you'd like to see the video version of my mini haul try-on, simply click this hyperlink 2019 Christmas Wardrobe, Mini PLT Haul. Subscribe, like, comment, share!
Let me know what you'd like for me to add to the next blog/vlog in the comments below!